Address:2180 West 11th Street
Cleveland, OH 44113-3604
Phone:(216) 298-5096
Hours: 7am-Late
Outdoor Seating: Yes
Website: Not Available
Wifi: Free
Accept Credit Cards: Yes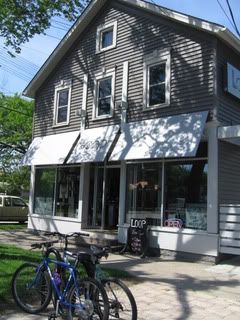 This coffee shop just opened in December 2009. It's the new kid in town and while trying to get the word out about themselves, for now they are relying on word of mouth from the local Tremont-ers. I actually heard about this spot at work, my manager mentioned it in passing, saying they roast their own beans. My little coffee addict ears perked up when I heard that, and since it was close (a 20min bike ride away) I knew it was going to be next on my list. The sun and the warm breeze this morning begged me to come out and play, so Chad and I hopped on our bikes and ventured out to Tremont to see whats what with the newbie coffee shop.
I wasn't able to find out a lot about this spot online. They don't have a website yet and only a handful of reviews on Yelp.com. But all the reviews are positive, most of them from from the local Tremont population. The fact that they aren't listed on any websites and without a website of their own, they might have a harder time getting new customers through their doors. But maybe slow and steady will win the race as they say.
Loop is nestled on the corner of West 11th and Fairfield Ave. It could be easy to miss if you aren't looking though. Like a lot of coffee places in residential neighborhoods, it's a house that was converted to a coffee shop. Parking in on the street or across the street in a small gravel parking lot. We tied our bikes up to the bike rack out front, and went in.
The first thing I noticed is the roaster in the front window. It's a small roaster but since it's just a small shop, roasting in small batches is actually the best way to do it. It ensures that the beans are as fresh as possible and that quality is above quantity. When you roast in smaller batches, it allows the person to see how the beans are being treated during the whole roasting process, before,during and after. It also ensures that the beans are being roasted evenly, and since only a small amount is being roasted at a time, there is no stockpiling so the beans don't go stale.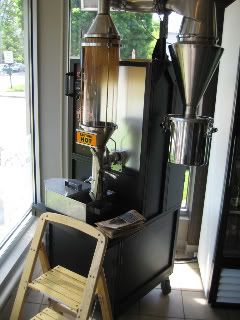 The menu board wasn't the usual chalkboard style menu board, which is a nice change. It just had the basic drinks on it, the sizes were small,med and large and a small list of "extras" (soy,extra shot,etc). Really, thats all you need in a menu board. You don't need a huge list of coffee and espresso drinks. There was some Monin syrups on the shelf so you could see what flavors they did have. If you have been to coffee shops before, really they all have basically the same thing. What sets each of them apart is the quality. You can have 50 different types of syrups if you want. But really, you're only going to use about 10 of them. No need to get crazy with it. I ordered a soy mocha iced and Chad ordered his Americano. I got 3 shots in mine and chad got 4. I really hate it when coffee shops get stingy with the espresso. If I get a 20oz drink, 2 shots just isn't enough. But thats just me...I like to taste my caffeine and not cover it up.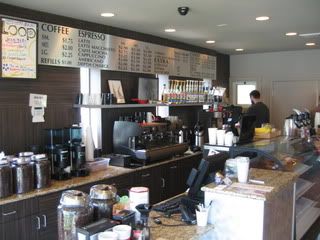 While waiting for our drinks, Chad chatted up the Baristo Dave. He seemed very soft spoken but very helpful. He answered all of the questions we had about the artwork on the wall (more on that later) and just the background of the place. We also ordered a banana nut muffin to share. They have a very small selection of pastries and muffins for sale. Their supplier is some bakery in the Market (I forgot the name) and while the muffin was really tasty and fresh, I would have liked to have seen more of a bakery selection. Maybe since they are just starting out, they are starting out small and plan to expand the food selection with time. I have been to some coffee houses where there is a HUGE bakery case and a million things to choose from. While that is nice,I don't need anything that elaborate. I'd just like a little bit more than 4 types of muffins. Is that too much for a girl to ask?? Hmm?? Hmm?? Gimme something chocolate why don't cha!! :)
Anyway when you walk in, to the right there is a huge wall covered with paintings. I am not sure if they are all done by the same artist though. I tend to think they aren't all the same person, since the styles of a few were pretty different. Most of the painting were done by Sarah K. Dougherty
and as a girl, I really loved them. Chad of course loved the darker paintings to the left on the wall, but what can I say? I like what I like:)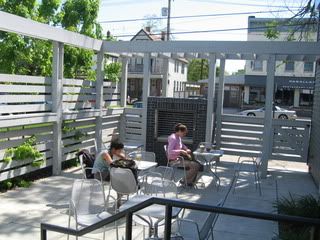 It is also worth mentioning that this place isn't just a coffee shop. It's a coffee shop/record store/art gallery. On the second floor there are a bunch of records to sift through, and they have a very wide assortment of musicians to choose from. The first floor have frames pictures and paintings as well. They are marketing themselves as a coffee shop and record store so they are doing a pretty good job in finding a balance in both.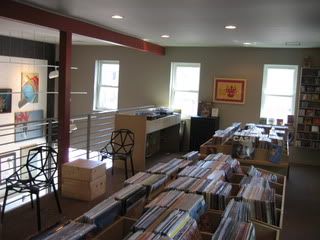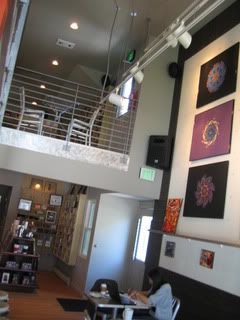 We took our coffees outside to sit and enjoy the day. My mocha was delish. I watched Dave pull the shots and after counting quietly in my head how long they took (yea I know I am a bit of a freak) I saw that they were perfectly timed. Since Chad got an Americano and I got something iced, I didn't get to see how they steamed their milk. So that might be an additional addendum to this posting at a later date. Chad said quite a few times how much he enjoyed his coffee. As you can see...
it was love at first sip.
They had a wide variety of seating. Both tables and bar seating in the main cafe, a large semi enclosed patio area, as well as some tables on the second floor. We sat outside for a while, the patio had semi private fencing. Where you're outside but it's not like you're a zoo animal, being gawked at by passers by. We sat outside until a young female came outside and lit up a cigarette, and that was our cue to go. Smoke mixed with coffee just doesn't mix well. I know it's a lot to ask to make the outdoor area non-smoking but to me, it's just gross and for those of us that just want to enjoy the fresh air, the air becomes not so fresh when someone is smoking. But I will get off my non-smoking soapbox for now...
All in all I can comfortably say I will be back. For my mocha, the muffin and Chad's americano it was $9.50, which isn't too bad. We also picked up a pound of Espresso to bring home with us.
On a side note, I also think I definitely redeemed myself with Chad from yesterday's debacle at the "Curbside".
Loop might be the new kid in town, but if I had to get my crystal ball out, I can comfortably say they will be leading the pack in the very near future.